Atlas Coach is your travel partner. We are here to give you an unforgettable experience in magical Morocco. Whether you prefer an active vacation with Surf camp Morocco, SUP camp Morocco or Kitesurf in Morocco, a relaxing trip with soft yoga or a tour around Morocco with your family or friends, we are here to guide you and give you a travel experience out of the ordinary.  For your best adventure surf camp Morocco.
When traveling with Atlas Coach you can expect a trip with a personal touch. Amine, who's the founder of Atlas Coach, has local knowledge about all Atlas Coach' selected destinations in Morocco, best surf camps Morocco' spots, SUP camp Morocco' spots and Kitesurf.
You will therefore experience that you, besides from experiencing beautiful nature and interesting culture, also will gain insight into the local environment at our destinations.
Amine is educated within the field of tourism as well as being a trained surf and SUP instructor. He has more than 15 years of experience as an executive surfer. Amine and his team of talented local instructors offers education of a high quality to both beginners and surfers that are more experienced. With their local knowledge, they know how to find the best surf spots, so you get the possibility to catch the best waves.
We offer both customized travels and package tours. Whether you choose to design your own stay or you choose one of our standard packages, we guarantee, that there will be taken well care of your trip and that you will get the possibility to experience the real Morocco with all that it entails; traditional Moroccan food, mint-tea, visit in berber village, charming berber music, visit in the busy and colorful Medina in one of the local cities and much more.
We look forward to taking you on an unforgettable journey to wonderful Morocco.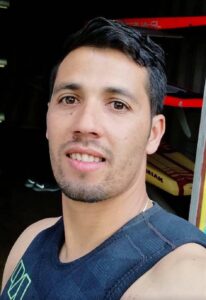 What our customers say about us
Har været i de bedste hænder. Lige fra vi ankom i lufthavnen til vi blev guidet sikkert gennem bølgerne og fik lækkert mad på surfstationen om aftenen. Det har været en rigtig fin tur hvor man havde rigtig gode muligheder or at lære at komme op at stå på et surfbord. Hele vejen igennem har jeg oplevet en utrolig dejlig gæstfrihed og vilje til at leverer en rigtig god oplevelse. Kan varmt anbefales.
Fantastisk uge med Atlas Coach Jeg havde en fantastisk uge med Atlas Coach i Sidi Kaouki, Marokko. ALT var timet og tilrettelagt af Atlas Coach, og jeg følte mig i gode hænder ved alle lejligheder. Det bedste af det hele, så var det mega sjovt at lære at surfe 🤙
En fantastik uge med fremragende… En fantastik uge med fremragende guider. Sidi Kaouki var et skønt lille sted med gode bølger og gode mennesker. Alt var planlagt, servicen fremragende og de arrangerede ture til Imsouane og Essaourira var prikken over I'et på en fantastisk uge med fede bølger, skønne mennesker og dejlige oplevelser. Mahalo!
Great Trip Great trip to Morocco, with a an organizer who shared a lot of local knowledge, and managed to show us the sides of the country that might not normally be seen by tourists
5 ud af 5 Jeg havde en fantastisk tur til Marokko! En af de ferier man ikke gider hjem fra. Alt var planlagt, tilrettelagt og udført super godt. Virkelig fede surf lektioner og med mulighed for selv at tage ud. Vejret og bølgerne var heller ikke til at klage over. Udover gode bølger og lækker mad fulgte der også et godt fællesskab med. Vi kørte flere gange til byen Essaouira - en lille hyggelig by, hvor det var muligt at spise mere god marokkansk mad og købe lidt souvenirs. En klar anbefaling herfra - jeg glæder mig allerede til næste år.
I april 2019 var jeg på en fantastisk rundrejse med Atlas Coach i Marokko. Turen var veltilrettelagt, og Amine som var guide på turen var hjælpsom, imødekommende og meget vidende om alle de steder vi besøgte. Fra ørkenen i Ouarzazat, hvor vi besøgte et imponerende gammelt kasbah og et spektakulært filmstudie til den smukke kystby Essaouira, hvor vi spiste friskfanget fisk fra den hyggelige lokale havn og købte smuk marokkansk keramik i den hyggelige medina. Herudover besøgte vi også surf-byen Sidi Kaouki - en by med en afslappende atmosfære, smuk natur og venlig og imødekommende lokalbefolkning. Amine fra Atlas Coach var hele vejen igennem professionel, nærværende og delte ud af sin store viden om Marokko. En varm anbefaling her fra af en privat rundrejse i Marokko med Atlas Coach - jeg ser frem til næste tur, hvor endnu flere af Marokkos magiske byer og smukke natur skal opleves på en af Atlas Coach's guidede ture.